Getting Started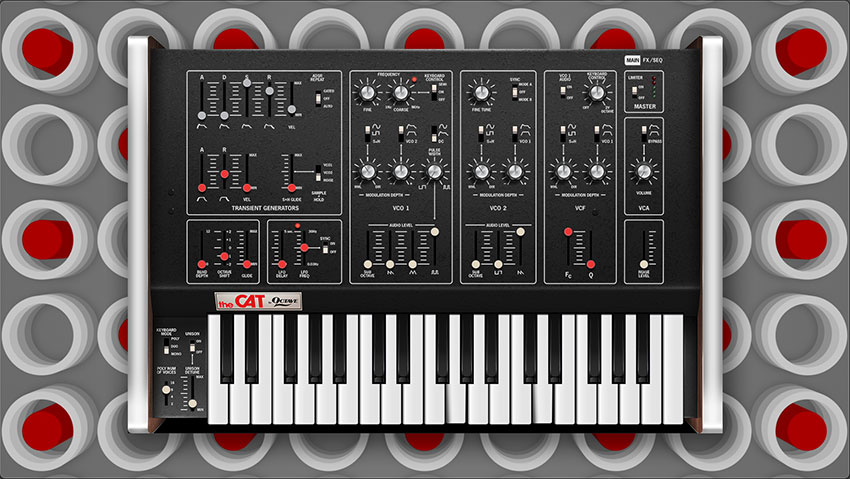 The CAT was a fun and unique duophonic analog synthesizer produced by the innovative New York-based Octave Electronics Inc. (later Octave-Plateau) from 1976 to 1981. We at Cherry Audio are excited that the Octave Cat virtual instrument has been created in collaboration with the original designer and owner of Octave Electronics, Carmine Bonanno. Thanks Carmine!
The original CAT was a fat-sounding, flexible, and sometimes wild-sounding synth with mono- and duo-phonic modes, and a fiercely aggressive and resonant filter circuit (which we've very accurately reproduced!). Its mod figuration enabled screaming audio-range oscillator cross mod, as well as wild oscillator sync with two modes.
The Cherry Audio Octave Cat expands upon the original with up to 16-voice polyphony, and a feature-packed "page two" with distortion, phaser, flanger/chorus, echo, and reverb effects, as well as a super-flexible dual eight-step sequencer capable of modulating numerous Octave Cat parameters.
We hope you'll enjoy this deceptively flexible and unique instrument as much as we do!
Manual Layout
This manual will detail each section of the Octave Cat; the order of the chapters follows the signal flow (as opposed to the physical layout of the front panel).

Technical Assistance
Cherry Audio's unique online store and automatic updating should make operation a smooth experience, but if you run into any issues or have questions, you can discuss issues online at the Cherry Audio forums at:
https://forums.cherryaudio.com/
... or you can communicate directly with one of our outgoing and friendly tech support staff at: